IMMERSION COILS
Unit Liner Company is proud to bring you TITAN Immersion Coils.
TITAN is dedicated to being the #1 supplier of corrosion-resistant equipment to the Metal Finishing, Plating and Anodizing Industries. TITAN supplies immersion coils in many different configurations to meet the specific needs of the industry. Grid coils are used to achieve the maximum heat transfer area in the least amount of dimensional space. Serpentine and "U" coils are used in situations were smaller heat transfer requirements are needed.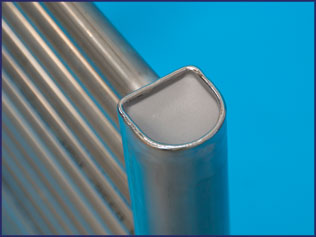 Call Toll Free at 1-800-633-4603
Available Materials Of Construction:
Titanium
Stainless Steel
Zirconium
Tantalum
Niobium
Standard Immersion Coil Features:
1" O.D. Titanium Tubing
Various Mounting Options Available
Support Braces Between Riser Tubes for Coil Strength
All Styles Equipped for Water or Steam Service
Pressure tested at 100 PSIG
100% Inert Gas Purged Welds
5-Year Warranty
Our professional installation crews consider your safety procedures a top priority. Our outstanding record testifies to our commitment to work safety. To learn more about the Unit Liner commitment to safety Click Here.