DEWATERING BAGS
Dewatering Bags are used for filtering and collecting silt & debris from water being pumped from ditches, runoff collection ponds, and drilling before it is allowed to leave a site. They are designed to replace expensive retention basins and to speed up the dewatering process. Dewatering bags are the most effective when there is not a good open pit solution. A dewatering bag allows soiled water to be pumped into the bag, which retains the sediment and allows the water to exit and return to the source clean.
Unit Liner Company sells and installs high quality lining systems such as tank liners, plating tank liners, lagoon liners and oilfield pit liners. We install liners all over the United States. Our Galvanized metal secondary containment structures are in stock and ready to ship.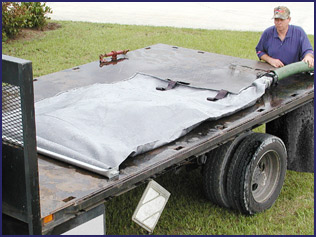 CALL US ANYTIME 8 A.M. - 5 P.M., MON-FRI • AFTER HOURS, PLEASE LEAVE MESSAGE.
Toll Free: (888) 748-5463
Our professional installation crews consider your safety procedures a top priority. Our outstanding record testifies to our commitment to work safety. To learn more about the Unit Liner commitment to safety Click Here.