ULTRA RE-USABLE DEWATERING BAGS
A dewatering bag allows soiled water to be pumped into the bag, which retains the sediment and allows the water to exit and return to the source clean.
Use for dewatering operations with large quantities of silt, sediment or dirt.
Large opening allows easy access and removal of trapped sediment.
Galvanized steel Locking Rods (Part# 9735) are quickly and easily installed to secure bag opening during dewatering.
Use on truck beds to quickly and easily transport filled Dewatering Bag to site for emptying.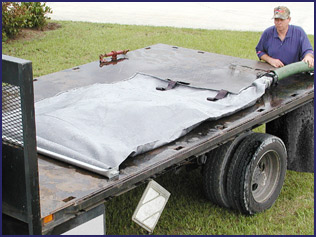 CALL US ANYTIME 8 A.M. - 5 P.M., MON-FRI • AFTER HOURS, PLEASE LEAVE MESSAGE.
Toll Free: (888) 748-5463
Contain Sediment And Oil Pumped Out During Dewatering Operations
Ultra Re-Usable Dewatering Bag
Part Number
Dimensions
Type
9730
3' x 5'
Bag w/Locking Rods
9732
5' x 7'
Bag w/Locking Rods
9736
3' x 5'
Replacement Bag
Our professional installation crews consider your safety procedures a top priority. Our outstanding record testifies to our commitment to work safety. To learn more about the Unit Liner commitment to safety Click Here.