Body

Corrugated Galvanized Containment Metal & Structures
Our galvanized metal contaimnet rings are in stock and ready to ship. These solid and sturdy structures are constructed out of 12, 14 and 18 gauge metal sheets (10 gauge also available) and are the backbone of safe and reliable secondary spill containment systems. The sheets can also be color powder coated in BLM colors or your own company colors.
Enviro-Guard Secondary Containment Systems are G-90 Galvanized Corrugated Steel.
Available in 12, 14, 18 & 26 Gauge.
Containment Systems are available in 22", 25", 35", 36" and 45".
Available in Powder Coated with BLM or custom colors.
Liners for secondary containment units are available in flexible polyethylene, polypropylene, and 100% polyurethane spray-in liners.
Galvanized tank rings.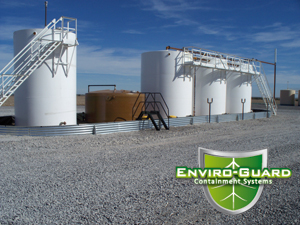 Oval Containment Structures
Oval containment structures are our most
common shape containment structure.
Rectangle Containment Structures
Square or rectangle containment structures
are great for when you need a 90° corner.
Round Containment Structures
Round containment structures are ideal for
single tank secondary containment.
Zero Ground Containment Structures
Zero ground supports are perfect for frozen,
rocky, or very hard ground.
The Zero-Ground containment systems are made especially for above ground applications where underground pipe is present, the ground is too rocky, or unsuitable for digging trenches used in traditional containment systems. With the Zero-Ground Containment systems there is no need for drilling post holes or setting post in concrete. Braces and cable are configured to support the assembled wall sections and to provide resistance against the outwardly force exerted by material that is released during a spill or when the containment fills with rain water.
WE VALUE YOUR BUSINESS
Call Anytime.
If we don't answer right away,
we will get back to you asap.
Oilfield Metal Division


(888) 748-5463
dennis@unitliner.com